Welcome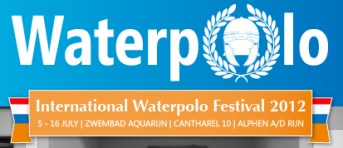 Since 2005, boys and girls aged 8 to 18 years combine their training, to become a water polo athlete at the Training Center (WOC) in Alphen aan den Rijn, with school or college. In addition, and in cooperation with the KNZB, new coaches and referees are trained by the WOC. The aim of this all is to bring the Netherlands in general, but Alphen in particular, back at international top level.
Alphen and WOC faced a huge disappointment back in February 2007 when "their" pool, called "de Thermen", was destroyed by fire. With support from the municipality the athletes were allowed to continue their training in Alphen aan den Rijnís other pool.
AquaRijn
It goes without saying that WOC looks forward to the opening of the new pool in early 2012, in which all facilities for international water polo are present and where all water polo games during the festival will be played.
Internationaal Waterpolo Festival 2012
As director of WOC and as director of the 3rd international water polo festival, I would like to welcome each participant of this tournament to Alphen aan den Rijn. Teams from Sao Paulo (Brazil), Ontario (Canada) and the Netherlands will bring an international character to the event and athletes can acquaint themselves with each otherís sports skills and cultural backgrounds.
I wish all participants good luck and fun during the water polo festival 2012 in Alphen aan den Rijn !
Best regards,
Eric Noordegraaf